The Annual Fall Conference convened in Madison Wisconsin over the weekend of October 13-15, 2017. There were 119 Zontians and 6 guests in attendance. President Elect Susanne von Bassewitz represented Zonta International at Conference. Attendees appreciated interacting with her throughout the weekend.
As the business meeting for the biennium, your delegates approved the 2018-2020 Biennial budget and elected the incoming leadership team of: Elaine Rynders – Governor, Anna Weselak – Lt. Governor, Cheryl Trudeau – Treasurer, Susan Bruzan – AD1, Donna Ambrose – AD2, Marsha Bennett – AD3, Lisa Conard – AD4, and Janice Corrigan – AD5. The Nominating Committee members are Tamara Hagen, Chair, Christina Plotzke, and Dorothy Suther. Board/Committee reports and a review of our District Goals updated us on the status of the District.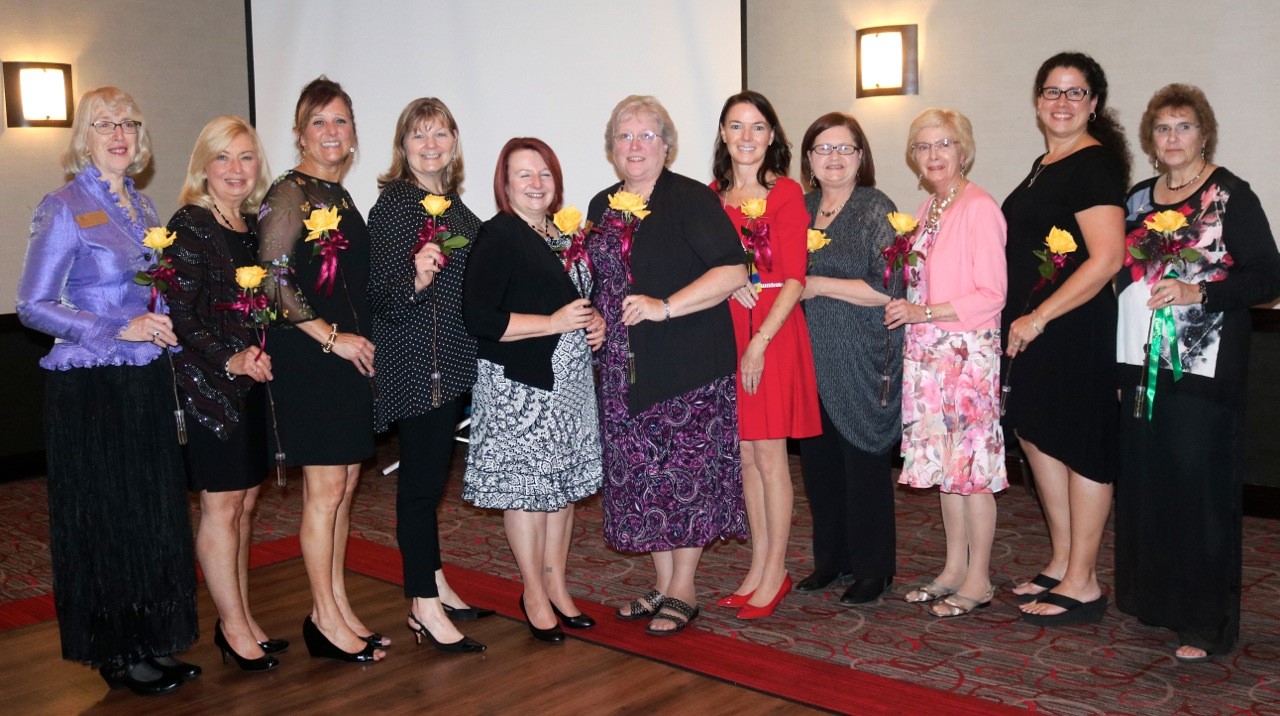 Woven throughout the Conference was an emphasis on the Centennial Anniversary Celebration (CAC). This kicked off with a presentation by President Elect Susanne von Bassewitz and CAC Endowment Committee Chair Jackie Beaudry on Friday evening and ended with District CAC Chair Yvonne Chalfant presenting an interactive session Sunday morning to stimulate ideas for Club and District activities centered around the 100 year Anniversary. This Celebration will culminate at the 2020 Convention hosted by District 6 in Chicago.
Zonta International Foundation was highlighted at Conference with Denim Day donations promoted on Saturday. Zonta International Development Chair Sally Bean presented her visit to Madagascar with President Sonja Honig Schough for a project site visit last summer. The members were inspired and the weekend donation to ZIF was a record $11,000!
Matching or Conference theme of "Empowering Our Voice", the Saturday Key Note speaker and workshop moderator, Veronica Ruekert, discussed how women are perceived as they speak. She noted that women speak less in discussions and decision-making conversations even at the level of Congress or the Supreme Court. Her workshop focused on effectively using our voice to speak assertively.
This year our District had 4 AE Fellows, two from Purdue and two from U of I – Urbana-Champaign, and 3 were able to attend and speak at Conference. These women were awesome and inspiring. They stayed for the whole Conference and many members were able to interact with them. No less awesome were our Scholarship and Award winners, the District AND International YWPA recipient and the District JMK recipient. It was a pleasure to have their families attend and see the Award Ceremony.
A new feature at Conference this year was a service activity, The Period Project. Members were asked to bring or send donations of feminine hygiene products and underwear. During Hospitality Friday evening, these supplies were packaged into 150 Period Packs. The outpouring of donations was overwhelming! We not only made the Packs but had enough supplies left over to fill a pickup truck. The Period Pack and all the supplies will be donated to a Madison homeless shelter for families, The Road Home.
In spite it being the weekend of Friday the 13th with several incidents (2 rear end crashes- no one seriously injured, 1 AE Fellows car dying, and a speeding ticket), the Conference was a success with a lot of energy, engagement and fellowship.
Save the Date now for next year's Conference hosted by Area 3 in Fairview Heights Illinois the weekend of October 5-7th.
Submitted by
Tamara Hagen
Governor